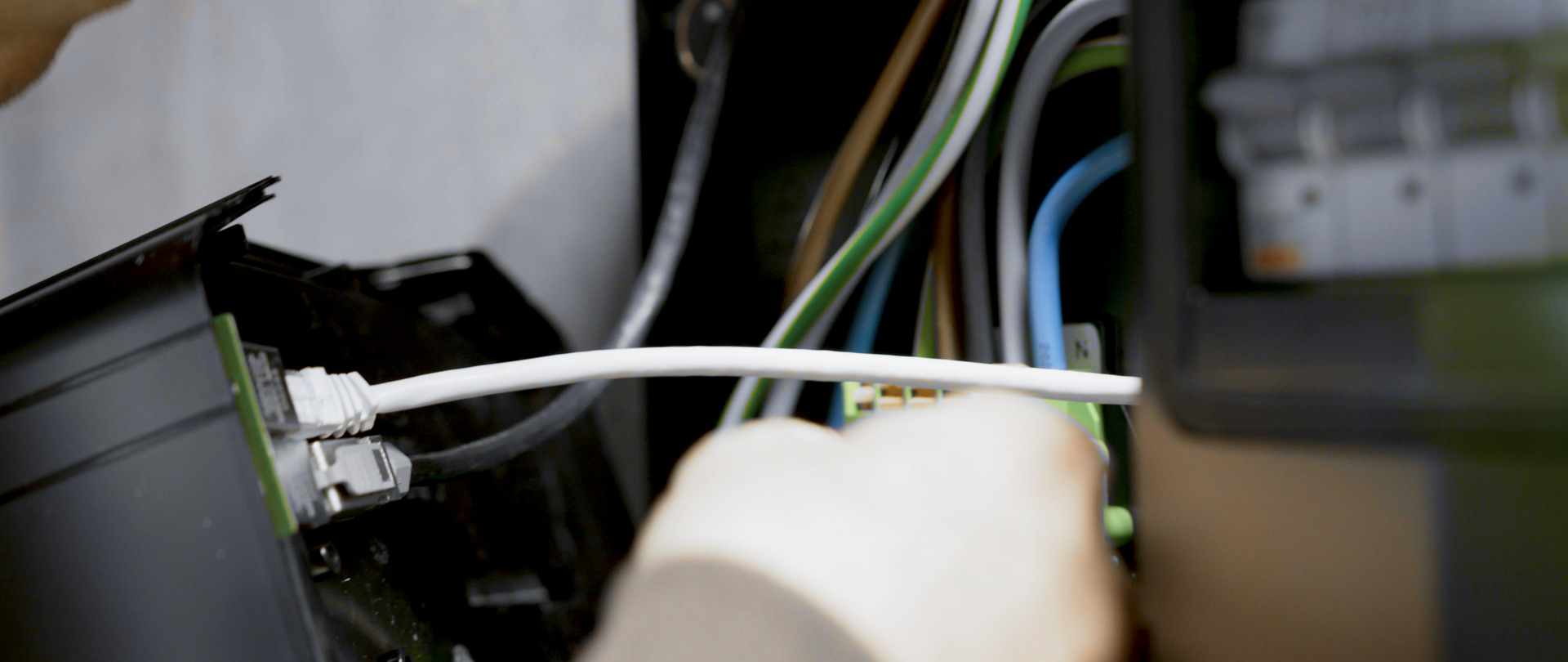 Frequently Asked Questions
Can my house charge my electric car?
This question is not easy to answer without knowing a little more, such as the size of the main fuses, the type of heating system and when you usually cook and do laundry. To avoid the worry of the main fuse being tripped, all our chargers can be equipped with load balancing. This ensures that the load being used for charging is adjusted to match current power use elsewhere in the house without overloading the fuse.
Load balancing protects the main fuse
GARO's load-balancing energy meter is most often installed in the energy unit by the electrician who also installs your charger. The charger can then poll the meter in real time for the exact household energy consumption at the moment and then regulate the charging output to the car accordingly, so as not to trip the main fuse. The only thing the electrician needs to know to install a GARO wallbox is the size of the main fuse of the house, which is specified on the agreement with or an invoice from the power grid company.
How load balancing works?
You come home from work and connect your car to the charger, which puts a load on your home electrical system. A short time later, you start preparing dinner and turn on the cooker. As the evening air starts to cool, the heat pump also starts. The load balancing system immediately senses that the electrical system is about to be overloaded and reduces the charging output to the car for now. Once the household demand drops, the charging output is increased again without tripping the main fuse. This is all fully automatic.
Take control of your charging
There are wallbox chargers both with and without WiFi that will charge your car equally well. However, if as a user you would like access to functions that provide statistics on charging per day/month/year or that limit the charging current, then WiFi is a plus. An internet connection over WiFi or a fixed network cable also makes it much easier to update the chargers software to maintain compatibility with the developments and requirements associated with new car models.
With a WiFi connection, you can use your mobile or computer to easily:
• Program the times of day you want to charge. Perhaps your power company offers cheaper electricity at night?
• Check how much you have charged during the past month and make comparisons with previous months.
• Report the readings for charging your company car to your employer.
• Turn off the charger when you are not using it to prevent unauthorised access.
• Update your charger when new software is released without the aid of an electrician.
Switching your Business to EV charging In Ireland?
Company Vehicles 1 in 4 vehicles purchased in Ireland in 2023 are now Plug-in Electric Vehicles (EV), with the percentage of fleet vehicles making up an even higher proportion. For employees and drivers the main incentive is reduced Benefit In Kind Tax (BIK). In 2023 an employee may drive an EV up to the value of €50k and pay no BIK. Typically, the type of EV needed in a fleet (larger vehicle and battery than an entry level EV) will cost over €50k, in this case the employee pays BIK on the portion above €50k only. The Irish government's 2021 budget set out a rolling reduction of the €50k exemption over 3 years where the BIK limit will reduce to €35k, €20k, €10k and then be abolished. This was due to begin in 2023 but has now been postponed until 2024. The incentives for the Company operating the fleet include reduced costs, staff satisfaction, Environmental benefits, and a positive marketing image.
For more information read our full blog post on Business charging
Surge Protectors
Safe in a second
A surge protector installed on your distribution board is like an insurance policy that protects you from fluctuations in the power supply, which are most often caused by lightning strikes. This is a smart way to protect your home from undesirable short circuits in appliances connected to the mains, and in less than a second it can save you the expense of replacement. Because when summer thunderstorms draw in, you can be in for some unpleasant surprises – a washing machine that suddenly stops working, a computer that simply refuses to start or a new TV with a completely black screen. When there's a surge in the power supply, such as after a lightning strike, sensitive electronics can suffer damage and suddenly daily life isn't quite as simple anymore. However, thunderstorms aren't the only thing that can disrupt the power supply. Power companies can suffer short circuits, excavation work can damage cables and large factory machinery can be powered up or down. The solution is a wise investment in a surge protector that can save you time, money and irritation.
Energy Meter
Control your electricity consumption
With an energy meter on your home distribution board, you can easily monitor your electricity consumption each month. This way, you can clearly see which rooms draw the most electricity. If you want additional monitoring of consumption, you can install a meter for each electrical product, which makes it possible to identify when a specific product is aging and it is time to replace it.
By controlling your electricity consumption, you can effectively save money, while at an early stage find out if a product is approaching the end of its useful service life and consuming more electricity than it should. Our energy meters are available for both 1-phase and 3-phase systems, and approved for billing in accordance with the Measuring Instruments Directive. We also offer both direct meters up to 65A and transformer meters that can handle a maximum current of 6000A via transformers.
Contact Us
For more information or to discuss having chargers installed contact us on ev@garo.ie / ev@garo.co.uk or call us on 01 866 5360 (IRE) or 0121 3899 444 (UK).